November 2, 2008 at 3:27 pm
#1189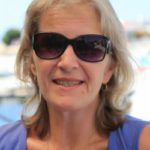 Tracy
Everyone had been disappointed that the Day of the Dead Party had been a wash out, cancelled because of the torrential rain. An alternative date had not yet been set for the boulder moving party, and the interior of the mysterious mound was to remain an enigma for a while longer.
Dan had been frankly relieved about the cancellation, preferring to get sodden on the Volderama golf course instead. He'd been delighted to meet Sergio Garcia there, especially as his old friend Juani Ramirez had had a dream several years previously about him and Sergio.
Dory and Becky were disappointed though. They'd both been consumed with curiosity about the mound and it's blue tiled interior and were eager to explore the inside physically, rather than with the customary psychic investigations and meditations. Never the less, they were both aware that when the time was right, everything would slot into place.
There was much to keep them occupied, what with the time travelling mouse that was camped behind the microwave oven, and the impending arrival of Granny Hill.
Becky had named the mouse Will, short for Will O' The Wisp, but that was before she knew that he was a time traveller. She left him a variety of tasty morsels next to the toaster, which Will took to his hide-out — Marie biscuits, dried cranberries, little chunks of Swiss cheese, and sometimes an almond or two. She left him a piece of lettuce and two sweet corn kernels once, but he hadn't been at all interested. Obviously Will wasn't a victim of nutrition beliefs, and Becky was impressed.
Wondering what else Will might like to eat for variety, and because she was beginning to realize that this wasn't just any old ordinary mouse, Becky sent a message to Dory's friend Mac Brock, who always seemed to be able to pull interesting information out of his hat. Mac's wife Wanda replied first, confirming Becky's impression that this was no ordinary mouse, but in fact contained an energy fleck of Tarkin, the Brocks non-physical friend from the future. Shortly afterwards, Mac replied, saying that Will-Tarkin liked asparagus.
Asparagus! Becky found that quite funny, because 'asparagus' had been the code word that the time travellers had said that they would use. She had been looking forward to meeting a time traveller. Little did she know that the first time traveller to come and stay at her house would be a mouse!