October 21, 2007 at 10:42 pm
#335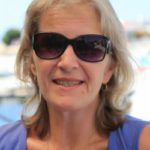 Tracy
Lord Gustard Willoughby Fergusson helped his wife Floribunda onto the camel, and clamboured onto his own. Cranky and Illi were mounted on donkeys, as were Tibn Zig and Tanlil Ubt, their local guides. Three hot dusty days, and two bitterly cold nights away lay their destination: Tsnit n'Agger and the home of the legendary giant of the Alal' Azntignit.
Cranky was feeling like a fish out of water in the desert, but Illi had taken to it like a duck to water. Not that there was alot of water about in the desert, Cranky grumbled to herself. What she wouldn't have given for a nice hot cup of tea and a crumpet. She looked at Illi and her face softened. Just look at the delight in that dear childs eyes, she said to herself. My, but she's a chip off the old block. Make herself at home anywhere, she would. Or make her home anywhere, Cranky thought, wistfully remembering their games of Wish House back at Rubbingdon.
Let's just hope Lord Gus finds those bones quickly and we can all go home.