June 28, 2016 at 10:35 am
#4062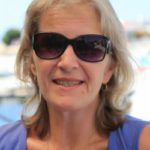 Tracy
Hilda regretted her decision to fly to the British Isles, now that she was caught up in all the Fuxit brouhaha. The mysterious plague doctor in Chester had turned out to be nothing more than a common madman, looking for a party to crash. The Mexican band with a wheelbarrow full of bricks welcoming the orange toupee'd buffoon from the west had been momentarily amusing, but was nothing more than another common madman looking for a party to crash as far as Hilda could see, and not worth further investigation, but the madness that had enveloped the country over the Fuxit was another matter.
Exit mania had swept the country ~ and not only the country, but the continent as well. Doors were falling off their hinges on buildings across Europe with the rush of people demanding to leave, or trying to keep others out. Irate women were pushing their husbands out of the front door and locking them out, while shop assistants slammed the doors shut on customers, exercising their rights to determine who should be allowed in, and who should leave. "Exit" signs on motorways were set alight and exit ramps barricaded, lighted exit signs in nightclubs were smashed. Herds of dairy cows smashed down gates and roamed the streets, and sheep huddled next to boarded doorways.
Itinerant builders were in high demand to fix broken hinges on gates and doors, and the memes about the population becoming unhinged quickly ceased to amuse in the utter mayhem.
Hilda decided to get a flight back to Iceland as soon as possible. As an investigative reporter, she knew she should stay, but justified leaving on the grounds that a wider picture was imperative. And frankly, she's seen enough!
But leaving the beleaguered nation was not going to be easy. The airline websites had been closed, and the doors on the travel agents had either been boarded up or had been removed altogether, and nobody was staffing the premises. The motorway exit ramp to the airport had been barricaded. Not to be deterred, Hilda left her hire car on the side of the road, and dragged her flight bag across the waste ground towards the airport building. The place was deserted: the doors on all the aircraft had been removed, and emergency exit signs lay smashed on the tarmac.
"Then I have no other option," Hilda said, "But to teleport."