August 1, 2014 at 8:22 am
#3349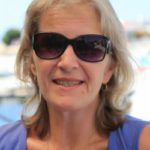 Tracy
The Continuing Adventures of the Three Time Traveling Maids From Versailles.
The three maids, Fanella (previously known, briefly, as Fanetta), Mirabelle, and Adeline and the three time travelling Russian stage hands, Igor Popinkin, Boris and Ivan, leave Paris in the 18th century via hot air balloon, heading for the Tower of Hercules on the Galician Coast, with Mirabelle's parrot. Sporadically they are assisted by Pseu Dan, a cross between a sort of oversoul 8 and a future focus with cloaking abilities and other skills, who tends to be unreliable due to a fixation on building a folly of tiles in the City.
After a series of mishaps attempting to board the ghost galleon of Belen, an Amazonian shapeshifting timetravelling pink dolphin pod comes to their rescue, and they find themselves washed up on a beach near the Pillars of Hercules (Spanish side) in the year 2020 and are found by Lisa, a middle aged Englishwoman. She takes the six timetravellers back to her village, an experimental new kind of community in the orange groves not far from the beach.
Jack is Lisa's partner, and other inhabitants of the village include Etienne and Pierre.
Mirabelle and Igor continue an on/off tempestuous affair, Mirabelle often considering Igor (somewhat unfairly) a feckless whoremongering cretin. Igor considers himself to be an average adventurous funloving young man willing to explore new opportunities.
Mirabelle, once considered to be the bossiest of the three maids, finds she has no need to control the others in the absence of the responsibilities of working long hours for others at Versaille. Initially she struggled with learning the new languages, but was easily diverted from the worry and thus learned with ease, after the unexpected trip to Portugal (looking for the stolen whale tile) with Lisa. Lisa finds herself strangely attracted to Mirabelle while under the influence of sangria.
Adeline settled into the new timeframe by pursuing her fascination with the unfamiliar multitude of coloured plastic objects, making them into sculptures. She and Boris have an easy ongoing friendship; Boris and Ivan settle into life at the village by taking an interest in car and tractor mechanics and farming, and digital photography.
Fanella was the most unsettled, yearning to return to the familiar hometimezone in Versaille. She found peace in solitude outside in natural surroundings, often practicing teleporting and projecting by the river or in the woods. She rediscovers her adventurous spirit after a series of teleport and time travelling mishaps. Her unexpected meeting with Sanso in the Great Fire of London in 1212 starts another chain of teleport and timetravel adventures, as she is now determined to reach the island in 2121 that she read about in an old book of Lisa's called Circle of Eights and Other Stories.