November 22, 2016 at 5:32 am
#4200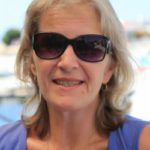 Tracy
When Eleri's little dog started coughing and wheezing again her first reaction was to snap at him. Irritating though it inevitably was, once again she realized she'd been holding her breath somehow, or probably more accurately, holding her energy. Or holding everyone elses, like a brick layers hod carrier, weighed down with blocks from other peoples walls.
"It's too hot in here, come outside," she said to the scruffy mongrel. The cozy warmth of the wood stoves had become stifling. She slipped through the door into the cool night.
Breathe, she said to herself, momentarily forgetting the gasping dog. Her hunched shoulders descended jerkily as she inhaled the sodden air, wondering about ozone or ions, what was it people said about the air after the rain? Whatever it was, it was good for something, good for the heart and soul of mortal humans.
Feeling better with every breath, Eleri noticed the olive branches rustling wetly overhead. The olive tree had been planted too close to the fig tree ~ wasn't that always the way, forgetting how large things grow when one plants a seed or a sapling. As the old fig tree had broadened it's sheltering canopy, the olive sapling had reached out an an angle to find the sun, and sprinted upwards in a most un olive like manner. This reminded her of the straight little sapling story, which had always irritated her. What was commendable about a row of straight little soldier saplings anyway? All neat and tidy and oh so boring, none of them stepping out of line with a twist here or a gnarl there. No character! But the olive tree, in it's race towards the light, leaned over the gable end of the dwelling as if spreading it's arms protectively over the roof. A regimental straight sapling would have simply withered in among the fig leaves, whereas this one had the feel of a grandfatherly embrace of benevolent support.
What was it she'd heard about trees and oxygen? They exhaled the stuff that we wanted and inhaled the stuff we didn't want, that was about as technical as she could muster, and it was enough. She breathed in tandem with the trembling rain sparkled leaves. In. And out. In, and out. Deeper breaths. Damn, it was good! That was good air to be breathing, what with the rain and the trees doing their thing. And there for the taking, no strings attached.
When the oven timer interrupted her sojourn in the night air, Eleri noticed that the little dog had stopped coughing. On her way back inside, she noticed the new mermaids patiently awaiting a coat or two of sea green paint and wondered if she would ever find a dragon to replicate. She was sure they'd be popular, if only she could find one.