February 21, 2008 at 11:00 am
#742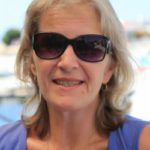 Tracy
Due to the unusual events in the year 2026, Nishanti and her five sisters lived in the reconstructed ancient city of Hingapooloopi that had been submerged beneath the ocean for centuries. There had been a series of tsunami's and eathquakes and volcanic eruptions resulting in an enormous hole appearing in the sea bed into which a considerable amount of Indian Ocean sea water had disappeared, lowering the sea levels in some locations, mainly those that had risen slightly due to shifting tectonic plates.
Ten year old Nishanti and her five sisters (Hinni, 3; Yaso, 5; Yuvani, 7; Eromi, 13; and Nanda, 16) had lost their parents, and indeed most of their relatives, due to an unfortunate mishap in the kitchens two years previously in the year 2032 at the wedding party of their brother, Chandra. Gayesh, Nishanti's eldest brother had mistakenly included poisonous red berries in the desert. Fortunately, Nishanti and her sisters had been reading the Snoot Q&A column in The Tarty Nun girls magazine that they had procured without their parents knowledge from a school trip of American tourists, in which Snoot had advised against red fruits.
Hingapooloopi was located on the land bridge , once again exposed, between Sri Lanka and the Indian continent. The reconstruction had been an enormously interesting undertaking, and Nishanti's uncle Roshan had been involved in the ground work excavations. He found many artifacts, which he smuggled off the building site, and secreted under the floorboards of the old family home in the highlands . Perhaps the most interesting one was the crystal skull; certainly it was the one that Nishanti found the most intriguing.